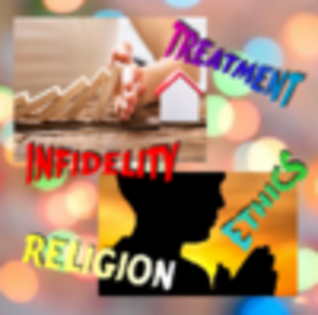 Infidelity and Religion, Ethics and Interventions


360 minutes
Previously Recorded
Presenter:
Erik Hadden, MA, LCPC
Dionne Aldridge, LCSW-C, Inspiring Minds LLC
Webinar Description
Full Day Webinar
May 13th, 2021
This Full Day Webinar includes two excellent classes, a total of 6 CEUs Credits. The cost of the full day is $99. You may attend an individual class for $59. This webinar is live and interactive (Category 1)
To register for the FULL DAY Click "BUY IT NOW". To register for just one class, click on the Class/link below.
If you have any difficulty registering, please contact us here.
Class 1
Treatment Planning with Couples Recovering from Infidelity

10:00 AM - 1:00 PM EST
Many couples today are likely to try to stay together after an act of infidelity because of their love and commitment to each other. But how can couples move past the hurt, betrayal, and the disloyalty? This Interactive training will provide an overview of how to assess the needs of couples, develop simple treatment goals, and provide multiple interventions to help couples recover from infidelity. (Trainer, Dionne Aldridge, LCSW-C, Inspiring Minds LLC)
3 Hours
Class 2
Believe it or Not! Ethical Issues in Regard to Religion and Spirituality in Mental Health Treatment
1:45 PM - 4:45 PM EST
What do you do when a devoutly spiritual client comes to you, wants to include their spirituality in their treatment and you are not very familiar with their spirituality? What ethical issues are raised by treating people from diverse religious and spiritual backgrounds? What ethical issues arise when you, as a provider, have strong religious or spiritual beliefs?
This interactive training will help participants understand the ethical issues that may arise in treating client from different religious backgrounds and how religious competency is an ethical issue. Participants will learn how to address a client's religion and spirituality in an ethical way, if and when it is ethical to incorporate it into treatment, and some common issues pertinent to treating clients from different religions. (Trainer, Erik Hadden, MA, LCPC, Vital Sources Psychological Services)
3 Hours
This One Day Seminar includes two excellent classes, a total of 6 CEs. The cost of the full day is $99. You may attend an individual class for $59.
Webinars included in this package:
Treatment Planning with Couples Recovering from Infidelity - 3 CE Credits
Believe it or Not!: Ethical Issues in Regard to Religion and Spirituality in Mental Health Treatment (Ethics)